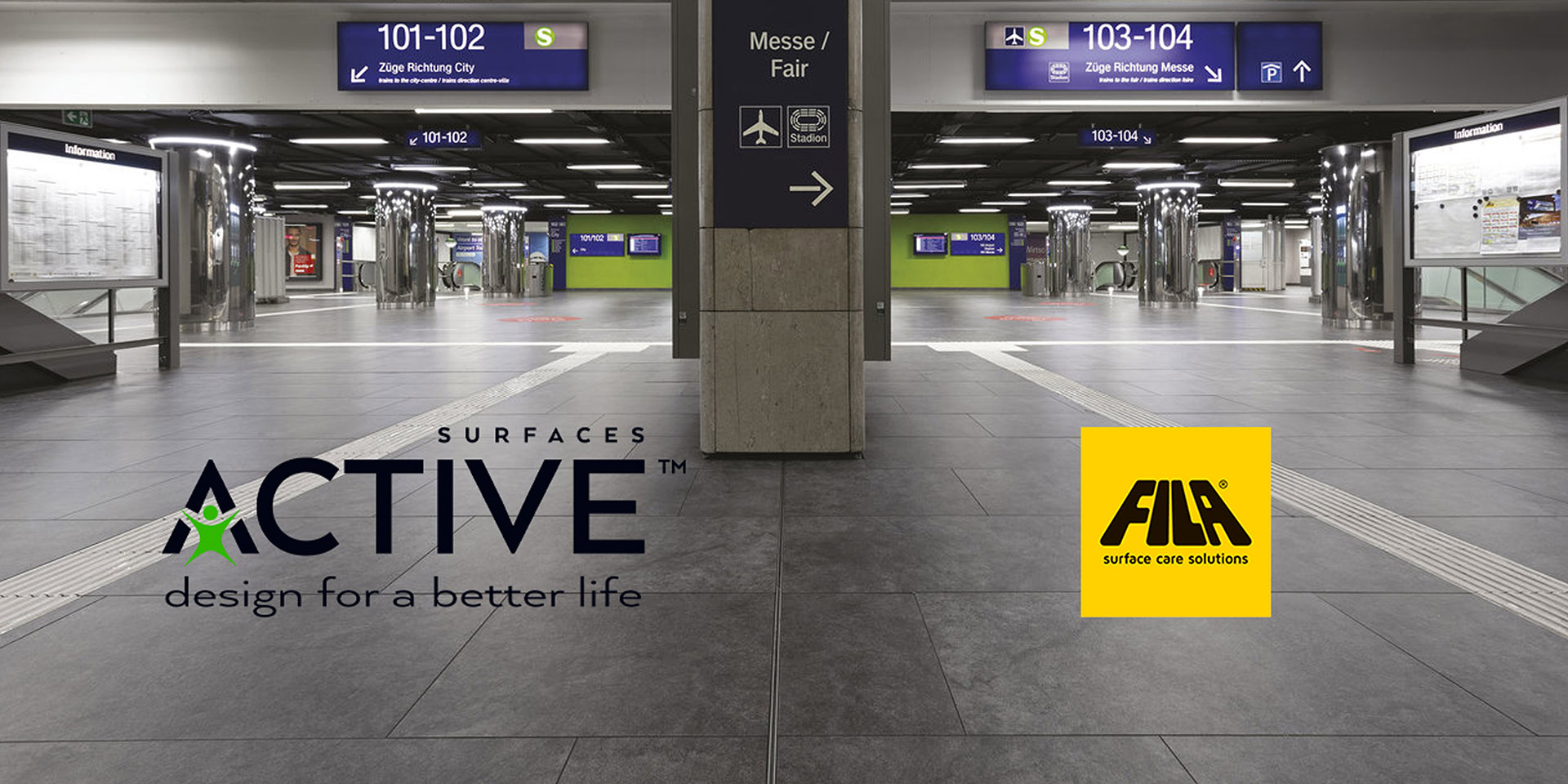 02 March 2021 | 11.00 - 12.00
ACTIVE Surfaces und ihre Werterhaltung: Nachhaltigkeit, Sicherheit und Wohlbefinden
Antivirale Wand- und Bodenbeläge in Zeiten von Covid 19. Lösungen für Wohlbefinden und Gesundheit mit höchstem Designanspruch. Ökologische Aspekte – unsere Verantwortung
10.45 - ERÖFFNUNG DES SEMINARRAUMES
---
11.00 - START DES SCHULUNGSVORTRAGES
PROGRAMM
ACTIVE Keramik punktet mit Vorteilen wie dauerhaft gesunder und geruchsneutraler Raumluft, antibakteriellen und antiviralen Eigenschaften sowie dem Abbau von Schadstoffen.
Welchen Beitrag leistet die Pflege dazu?
Erfahren Sie mehr über antivirale Wand- und Bodenbeläge und den Mehrwert einer nachhaltigen, anwendungs- und objektspezifischen Lösung zur Werterhaltung.

TEIL 1: Fiandre® Architectural Surfaces
ACTIVE keramik: fotokatalytische Oberflächen und ihre vier Qualitäten
Traditionelle nachhaltige Keramik und fotokatalytische Maximum Formate mit Titandioxid und Silber
Bakterien, Viren und Schimmelpilze
Patentierte antivirale und antibakterielle Oberflächen mit ISO Zertifizierungen
Ein Wort zur Luftverschmutzung und Umweltgiften
Unangenehme Gerüche; eine Umweltbelastung oder Normalität?
Die echte Nachhaltigkeit ist beweisbar
Was bedeutet Selbstreinigung

TEIL 2: FILA surface care solutions
Erfolgsstory: FILA unterstützt Umbau des Berliner Showrooms der Iris Ceramica Group
Reinigung und Pflege: ein Baukastensystem im Lebenszyklus des keramischen Belags
Covid-19: Was hat sich in Bezug auf die Pflege der Beläge geändert?
Bauschäden durch ungeeignete Reiniger: Belag, Fugen, Armaturen
Veränderung technischer Eigenschaften durch falsche Unterhaltspflege
Objektspezifische Lösungskonzepte: vorbeugen und absichern

---
11.45 - DEBATTE
---
12.00 - SCHLIEßUNG DES SEMINARRAUMES

Speaker: Claudia Letizia Bianchi, Tanja Pahlke, Stefano Scanferla, Alexandra Becker und Valentino Capucci
Technischer Partner: Fiandre® Architectural Surfaces und FILA Surface Care Solutions
---
DATENSCHUTZ UND VERARBEITUNG PERSONENBEZOGENER DATEN
Ihre persönlichen Daten werden von GranitifiandreSpa – via Radici Nord, 112 - 42014 – Castellarano (RE) Italy, registriert, bevor Sie in den Saal eintreten. Lesen Sie bitte die Datenschutzerklärung.
------------------------------------------------------------------------
Antiviral wall and floor coverings in the age of Covid-19. Solutions for health and well-being with the highest design standards. Ecology Matters – Our Responsibility
10.45 - OPENING CLASSROOM
---
11.00 - LESSON START
Program:
ACTIVE ceramics bring superior benefits, including permanently healthy and odorless ambient air, antibacterial and antiviral properties, as well as the degradation of pollutants. How do care solutions contribute to this? Learn more about antiviral wall and floor coverings and the added value of a sustainable, value-retaining solution specific to the application and property.
PART 1: Fiandre® Architectural Surfaces
ACTIVE ceramics: photocatalytic surfaces and their four qualities
Traditional sustainable ceramics and photocatalytic maximum formats with titanium dioxide and silver
Bacteria, viruses and mildew
Patented, ISO-certified antiviral and antibacterial surfaces
A word on air pollution and environmental toxins
Unpleasant odors; an environmental impact or a normality?
True sustainability can be proven
What does self-cleaning mean?

PART 2: FILA surface care solutions
Success story: FILA sponsors the renovation of the Iris Ceramica Group showroom in Berlin
Cleaning and care: a modular system in the life-cycle of ceramic flooring
Covid-19: What has changed in terms of how floorings are maintained?
Building damage caused by unsuitable cleaners: flooring, joints, fittings
How improper maintenance changes technical properties
Property-specific solution concepts: prevent and protect
---
11.45 - DEBATE
---
12.00 - CLOSING CLASSROOM
---
Speakers: Claudia Letizia Bianchi, Tanja Pahlke, Stefano Scanferla, Alexandra Becker and Valentino Capucci
Technical partner: Fiandre® Architectural Surfaces and FILA Surface Care Solutions
---
PRIVACY AND PROCESSING OF PERSONAL DATA
Your personal data will be processed by Granitifiandre Spa – via Radici Nord, 112 - 42014 – Castellarano (RE) Italy, who will be acting as the Data Controller. Before entering the hall, please read the privacy policy.