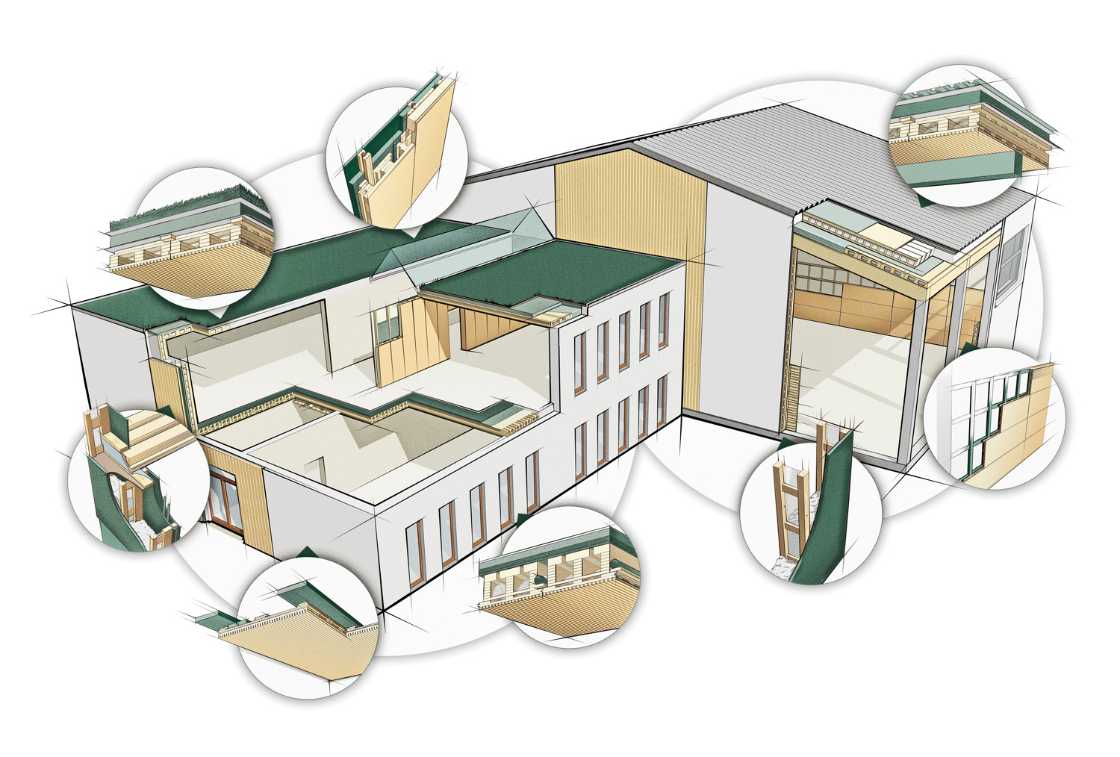 21 October 2019 | 17.00 - 19.00
Buildings with wooden structure. (Structural elements ribbed from preliminary to construction details)
The design of buildings with a wooden structure with ribbed structural elements. Study of wooden buildings with analysis of: main nodes, ground connection, walls, floors and doors and windows. Detail examples for wooden buildings with analysis of the different project phases from the preliminary to the detail with indications of cost analysis, characteristics and properties of the materials
Seminar Code 2019.040 | (subject being accredited at the CNAPPC)
---
REGISTRATION NOTES
If you participate in seminars with the same code but on different dates (see code above 7 numbers, eg 2018.110) you will not be able to accrue further cfp for this theme. It is not possible to participate in the seminar in "landline telephone" mode for the correct issuing of the training credits.
---
PROGRAM OF THE SEMINAR
1. Premise: the importance of a correct design of the wooden building, the key points:
a. Construction details.
b. Descriptive specifications.
c. The law of 4D.
2. The role of the designer and of the D.L. in wood construction:
a. Prescriptive model.
b. Choice of the structural system of the building.
c. Choice of materials for the structure.
3. Evolution of wooden construction systems:
a. CLT multifunctional ribbed, what are the advantages?
4. The construction details:
a. The set of construction details and the relationship on the sub-systems (static-acoustic-thermo-hygrometry-durability-well-being-health).
5. The outer wall and the coat system.
6. The ground attack.
7. The knot frame.
8. The inter-floor slab.
9. The flat and inclined roof slab.
10. Drafting of the tender documents:
a. Macro chapters and detailed items.
Speaker: Gianluca Buscaglia
Technical partner: LignoTrend
Moderator: R. Fabio Sciacca
---
PRIVACY AND PROCESSING OF PERSONAL DATA

Pursuant to the EU Regulation 2016/679 (GDPR) the data of the data processing owners are specified below:
PUBLISHER --> Next OnWeb S.L.U., with registered office in Avda. De La Feria, num. 1 (INFECAR) Incube building. Oficinas 4 y 5 35012-Las Palmas. Gran Canaria. Spain. The data transmitted through the registration form to the seminar will be used for the purposes specified in the Information that can be reached at the link https://www.arkitectureonweb.com/it/privacy-policy/. At any time you can obtain confirmation of the existence or not of a treatment of data concerning you, by specific request addressed to the owner of the processing of personal data (PUBLISHER) by sending an email to the address [email protected].
TECHNICAL PARTNER --> Lignotrend Produktions GmbH Landstrasse 25 D - 79809 Weilheim-Bannholz Italy The data transmitted through this form will be used for the purposes specified in the Information that can be reached at the link https://www.lignotrend.it/azienda/informazione-legale/. At any time you can obtain confirmation of the existence or not of a treatment of data concerning you, by specific request addressed to the owner of the processing of personal data (TECHNICAL PARTNER) by sending an email to the address [email protected]